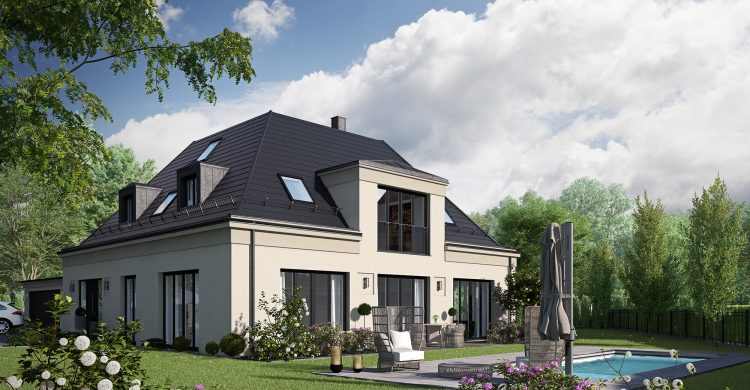 Villa III — construction to start in the spring of 2019
Over 395 sqm living area/usable space across four spacious floors (cellar + ground floor + loft + penthouse). With a gross area of over 180 square metres per floor, the villa's layout can be described as extremely generous even by Grünwald standards. The basement provides utility and hobby rooms, a separate guest apartment with its own entrance, a fitness area and, if desired, a media/cinema room and wine cellar.
The ground floor is particularly designed to impress. At over 80 sqm, the living/dining area is very spacious and may be designed to incorporate an open-plan kitchen. The perfectly south-west facing villa is situated in a beautiful and private setting at the northern part of the property. A wide driveway leads you from the street to the 55 sqm garage that can accommodate up to 3 vehicles.
Key figures
Living/usable space: roughly 395 sqm
Floors: basement + ground floor + loft + penthouse
Rooms: up to 12 rooms / 4 bathrooms + guest WC
Garage: up to 3 parking spaces
Property: roughly 1,135 sqm
Purchase price: upon request
The indicated surface areas are not guaranteed
Features
Exclusive architectural designs
High-quality insulating brick construction
Wood-aluminium windows with security fittings
Electric aluminium blinds
Large garage to accommodate up to three vehicles
Natural light in part of the basement
Sun-drenched south-facing garden
The naturally lit basement lends itself to a separate development (e.g. an independent flat)
Basement meets quality standards required of living areas
Plain roof tiles and Velux skylights
District heating, open fireplace on the ground floor
Elaborate and luxurious electrical equipment
Bus system with numerous automation options and an alarm system
High-quality floor boards (e.g. oak wood)
Luxurious bathroom and sanitary equipment
(option to install antoniolupi, Boffi, or others on request)
Outdoor swimming pool on request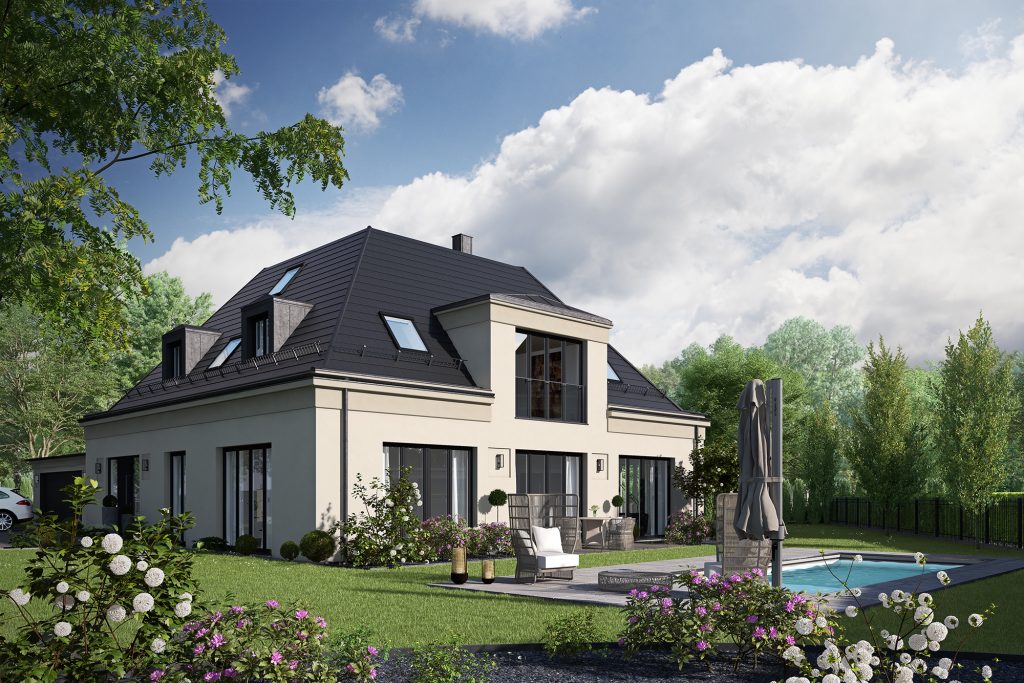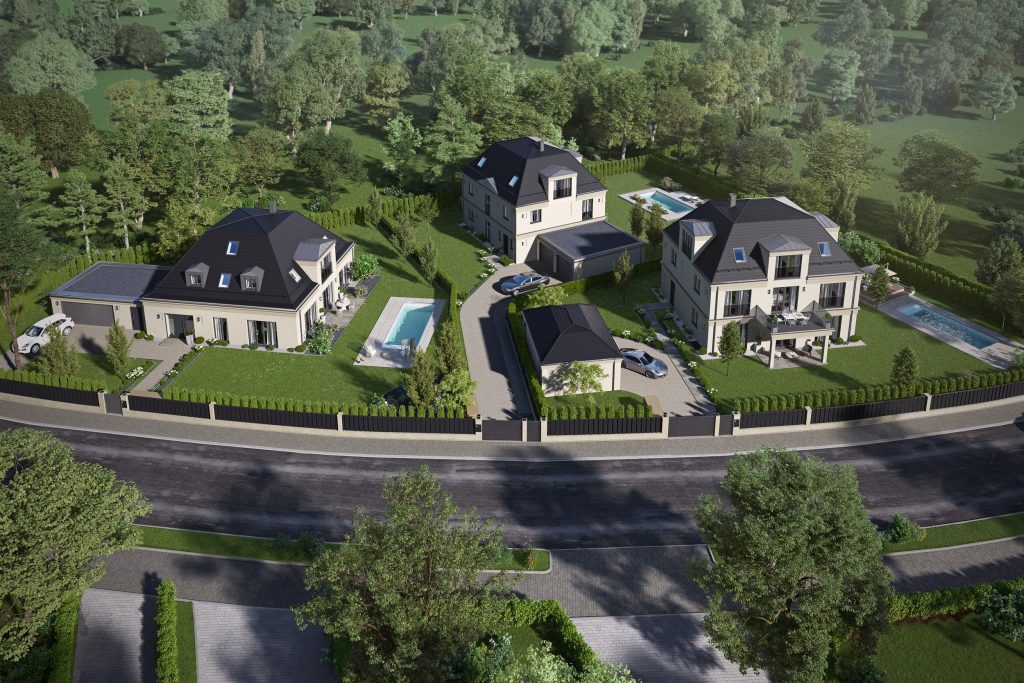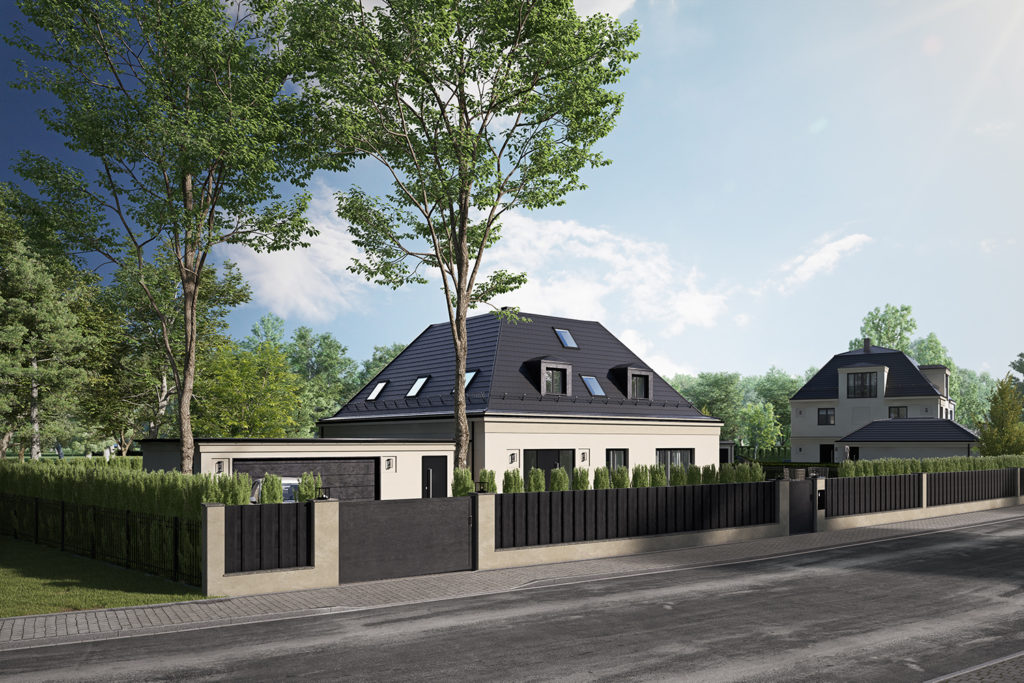 Location description
Just outside Munich, only 14 km from Munich city centre, three impressive villas are being built on stately properties.
Their immediate proximity to the high banks of the river Isar makes these four exclusive properties on Dr.-Max-Straße 64 unique.
Large villas and stylish detached houses characterise the municipality's attractive style, which has made a name for itself even abroad as one of the most exclusive and safest residential areas in Europe.
Grünwald has also become popular internationally as a business hub. With a very low assessment rate for corporation tax (240), the municipality is home to numerous international corporations and firms.
Grünwald also offers a unique selection of diverse shopping opportunities that goes beyond everyday shopping necessities. Pharmacies, banks, a selection of sports and fitness facilities that leave nothing to be desired, as well as an exclusive selection of restaurants and cafés.
There are numerous private and public kindergartens, a primary school that enjoys an outstanding reputation, an 'international preschool' and an outstanding newly-built high school — currently the most modern in Germany. Munich International School in Starnberg can be reached by a daily private commuter bus.
The direct proximity to the high banks of the river Isar and the vast Isar meadows offer a particularly high quality of life with extensive options for leisure activities.
The bicycle paths take you from the Isar meadows directly to the foothills of the Alps.
Lakes Starnbergersee and Tegernsee as well as the Bavarian foothills of the Alps are only a short drive away, while it is only an hour's drive to Kitzbühel and 40 minutes to Munich Airport.
Please find further information on the municipality of Grünwald here: